About the Wiki

New Looney Tunes Wiki is a wiki focusing on the Cartoon Network and Boomerang show, New Looney Tunes. The show premiered on September 21, 2015 and it is based off of the 1929-1969 shorts of Looney Tunes, starring the hilarious, heroic and mischievous Bugs Bunny. Classic foes, including Yosemite Sam and Wile E. Coyote return and Bugs will have some help from new friends, such as Bigfoot and Squeaks the Squirrel.
Announcements
New season, new name! Wabbit - A Looney Tunes Production is no longer. The show has been retitled "New Looney Tunes," with more details here.
New shorts for 2017 have been discovered. See the names here.
Characters
Episodes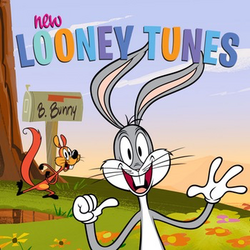 Polls
Which villain do you like more?
Featured Quote
"

Here's the thing: I don't care what they do to that pig. If they keep bringing me back, I'm employed. So they can beat the heck out of Porky, they can make bacon out of Porky, I don't care. It's actually fun. Conflict is a fun thing to play.

"

—Bob Bergen (voice actor of Porky Pig) in an interview with ToonZone.
Ad blocker interference detected!
Wikia is a free-to-use site that makes money from advertising. We have a modified experience for viewers using ad blockers

Wikia is not accessible if you've made further modifications. Remove the custom ad blocker rule(s) and the page will load as expected.